We are Florida's premier pool financing partner!
With more than 650 miles of sun-drenched beaches from the Panhandle to the Keys, they don't call Florida the Sunshine State for nothing. A four-season subtropical paradise, the balmy weather perfectly lends itself to the swimming pool lifestyle, with most Floridians considering a pool nothing short of a necessity.
According to a 2015 study by Realtor.com, Florida is home to two of the nation's top ten pool-loving cities; Coral Springs and Clearwater. In Coral Springs alone, a whopping two-thirds of homes include a pool. Why not join your neighbors and beat the heat all year round with a tropical oasis in your own backyard? And when you do, make certain to partner with Lyon Financial, the industry's leading provider of swimming pool & home improvement financing options since 1979.
With over 500,000 satisfied customers across the United States, Lyon Financial specializes exclusively in swimming pool & home improvement loans, allowing us to offer the lowest rates, longest terms (up to 30 years!), and most experienced professionals dedicated to making your backyard dreams come true.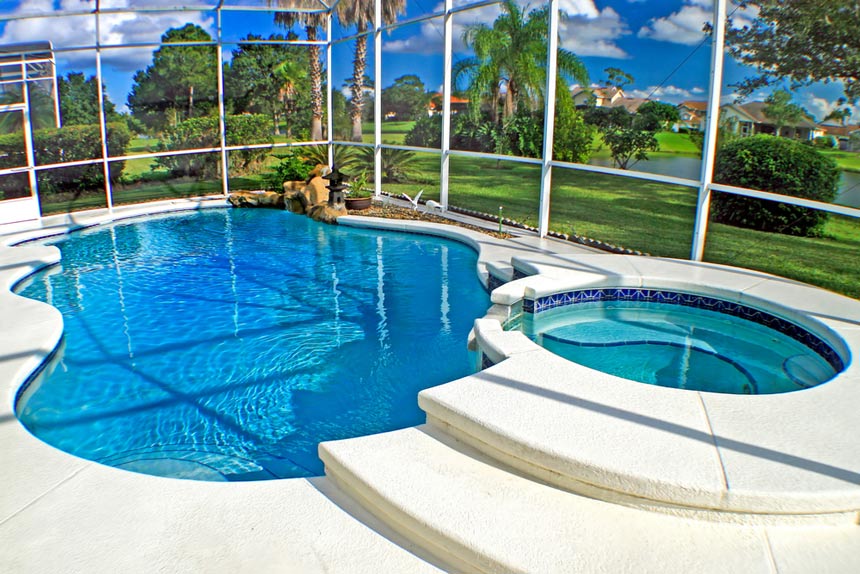 Make Your Swimming Pool a Safe Space
Having your very own in-ground swimming pool can be a delightful addition to not only your backyard but also to your healthy lifestyle! So. Much. Happiness. However, a swimming pool also comes with responsibilities and potential hazards — particularly for the children in your life. For those ages 1 to 4, drowning is the leading cause of death. Even for those older than that, drowning is the fifth leading cause of death. It's important to implement and enforce safety policies for your swimming pool. Based on recommendations from the American Red Cross, we hope you'll create your own guidelines in order to make your swimming pool a safe space for fun and friends!
Put Up Barriers
The kind of fence used for typical backyards isn't enough if you have a swimming pool. Instead of simply having a 3-sided fence that surrounds your yard and runs into your house, a swimming pool fence should be a 4-sided fence that surrounds only your swimming pool. It should be at least 4 feet high and should include a self-closing, self-latching gate. This design allows small children to play in the yard but not the swimming pool area, when a supervising adult is not within reach.
Other safety barriers for your pool should include a safety cover that's used whenever the swimming pool is not in use. Pairing that cover with a pool alarm that will sound whenever someone enters the pool can be a helpful addition as well.
Require Careful Supervision
One important rule of swimming pool safety is that no one — not even a well-trained adult — should swim alone. In addition, no child should be allowed within the fenced-off pool area without an adult supervising. Non-swimmers should also be required to wear a life jacket or similarly protective floatation device anytime they enter the pool.
Keep Your Swimming Pool Maintained
Drowning is certainly the greatest safety risk associated with swimming pools; but it's not the only one. You can help prevent various issues for swimmers — ranging from earaches to rashes — by keeping your swimming pool chemicals carefully monitored and your filtration system free from debris. To keep your swimming pool water free from harmful toxins, make sure anyone entering your pool has showered first, reducing the bodily fluids and other products that would otherwise affect your pool water.
Post Your Policies
There's no point in having policies if they aren't posted and enforced! Be sure to carefully word each rule so that it's easy to understand and remember, and go over the rules with anyone who enters your swimming pool. You might even want to consider requiring any children to repeat the rules out loud and specify consequences that will occur if any one of your pool rules is violated. Of course, you also need to make sure to enforce those rules and follow through with any consequences you have promised.
View available swimming pool financing programs for Florida. Call Lyon Financial today at 877.754.5966 for the financing you need to make the memories you deserve!
Back to top
Types of In-Ground Swimming Pools
You know you want an in-ground swimming pool, but do you know what kind is best for you and your home's setting? There are three basic types of in-ground pools and many different shape, depth and configuration options. However, before you decide anything else about your future backyard swimming pool, you need to make the basic decision regarding which type of in-ground pool to go with. So let's explore the three different types of swimming pools!
#1: Gunite Swimming Pools
Gunite swimming pools can be great options, particularly for pools that will get plenty of use. Essentially made from concrete, gunite pools can be customized in a variety of ways. There's really no limit, when it comes to the size, depth, and shape of your swimming pool. Special features such as beach entries, finishes, and even tanning ledges can easily be incorporated into your swimming pool design.
One issue with gunite pools is that initial installation often takes longer than other swimming pool options. In addition, the porous material requires more chemicals and intensive filtration for the proper pH levels to be maintained and algae to be kept to a minimum. Some additional maintenance may also be required, and the price point is higher than other in-ground pool options.
#2 Fiberglass Liner Swimming Pools
The ever-popular residential swimming pool option, pools with fiberglass liners have non-porous surfaces that result in a low-maintenance swimming pool. The gel coating used for fiberglass liners keeps algae to a minimum — without the need for additional chemicals. You can easily incorporate added features such as built-in seating and steps. The installation process is pretty straightforward and quick, and the liner typically lasts as long as your swimming pool without the need for resurfacing or major maintenance.
Because fiberglass liners are made from molds, though, your options for size and shape will be limited. When repairs to your fiberglass liner are needed, matching an existing liner color can be difficult. Compared to gunite pools, pools with fiberglass liners are less expensive; however, they are more expensive at the outset than those with vinyl liners.
#3: Vinyl Liner Swimming Pools
Swimming pools with vinyl liners are increasingly popular. Allowing for unlimited size and shape possibilities, vinyl liners are great when customization is important to you. They're also a great bargain, with the initial cost lower than the other two swimming pool types. Like fiberglass liners, vinyl liners boast a smooth surface which is both comfortable for feet and easy on maintenance because of the lesser amounts of algae growth.
While vinyl liners require less of an initial investment, they will end up costing more over the lifetime of your swimming pool. Because of that, they can actually decrease the resale value of your home. The thin vinyl liners are not resilient enough for use with large crowds, animals, or rough play.
View available swimming pool financing programs for Florida. Call Lyon Financial today at 877.754.5966 for the financing you need to make the memories you deserve!
Back to top
Types of Swimming Pool Covers
Did you know that there were several different types of swimming pool covers? Each, as you might expect, has a specific purpose. No matter what kind of cover you choose, it will certainly help keep debris out of your pool, reducing the stress on your pool's filtration system — as well as the amount of time and energy you need to spend on maintaining your swimming pool. We'll take a look at three types of pool covers: winter covers, solar covers, and safety covers.
#1: Winter Covers
Winter pool covers are certainly the most durable covers on the market. While they can readily double as safety covers during the off season, winter covers are made to be able to hold up during the harshest weather of the year. Helping to protect the investment of your swimming pool, a winter cover is an extremely important part of the equation, when it comes to making sure your swimming pool will last as long as possible.
Before you decide on a winter cover for your pool, be sure to consult a pool professional and get multiple estimates. You will want to get your winter cover professionally installed; trust us, this isn't the time to go cheap or DIY.
#2: Safety Covers
Particularly for those who have young children around, safety covers are extremely important. While no cover should replace a pool fence, this added safety barrier can help prevent accidental drowning. Even those who do not have children in their household should consider having a safety cover for their pool.
Two basic types of safety covers are on the market. First, open safety covers are made from mesh. This type of cover allows precipitation through. Second, closed safety covers are stretched across a pool, sometimes requiring you to pump precipitation off its surface. Of course, a closed cover will help reduce the impact on your chemical levels as well as your swimming pool water levels and any issues with unwanted debris. Like your winter cover, we highly recommend having your safety cover professionally installed.
#3: Solar Covers
A solar pool cover certainly helps reduce the amount of debris that enters your pool while offering a measure of safety; however, its primary purpose is to help keep your swimming pool's temperature at a comfortable level. This affordable swimming pool heating option works best when the sun is bright and the temperature is already warm. It's not the most effective swimming pool heating method out there, but it is definitely worth considering. (We'll later compare this type of swimming pool heating to the two other main forms.) Unlike the other types of covers, a solar cover can easily be used without professional installation.
View available swimming pool financing programs for Florida. Call Lyon Financial today at 877.754.5966 for the financing you need to make the memories you deserve!
Back to top
Types of Swimming Pool Heaters
After the initial investment of your in-ground swimming pool, the most significant purchase you can make to increase the allure of your backyard haven is a swimming pool heater. You'll find the water more inviting no matter the weather, but you'll also be able to extend the potential swimmable time each year when you can utilize your swimming pool. When it comes to pool heaters, though, they're not all created equal. Let's take a peek at the three main pool heating options.
#1 Gas Swimming Pool Heaters
Gas heaters are, by far, the most effective means of heating your swimming pool. Unlike other options, they offer on-demand heating. While not as environmentally friendly or economical as the other pool-heating options, today's gas heaters are still eco-friendly. Unlike older versions, current ones are also quiet, take up little space, and include electronic ignitions for your convenience.
Basically, gas swimming pool heaters work by having either natural gas or propane gas heat the water in the combustion chamber. A pump circulates the water through a filter and the heater and then back into the pool.
#2: Swimming Pool Heat Pumps
Compared to gas heaters, heat pumps aren't as effective at quickly heating your swimming pool water; however, they're more energy efficient as well as more economical to run. What makes them environmentally friendly is the fact that they don't emit carbon into the atmosphere. They're also about 50% the price of natural gas heaters or 30% the cost of propane heaters.
Swimming pool heat pumps work by capturing rather than producing heat. Basically, the pool pump pushes the water through a filter and heater. Inside the heater, a fan draws in outside air, and that air passes over the evaporator coil, where the liquid refrigerant absorbs the heat and creates a warm gas that heats the pool water, which then circulates through and is returned to the pool.
#3: Solar Pool Covers
The most budget-friendly swimming pool heating option on the market, solar pool covers are inexpensive to purchase and completely free to run. Of course, they're incredibly environmentally friendly as well. Solar pool covers allow you to harness the sun's heat; because of that fact, though, they're really only as effective as the sun is bright and warm on any given day. Essentially, they work by trapping the natural heat from the sun, creating an insulated air layer. On a bright, hot day, your pool water can benefit from a 5-degree temperature increase as a result.
An extra benefit of solar pool covers is that they can easily be installed without hiring a professional. All you have to do is unroll the cover along your pool's surface; you just need to make sure the bubble side is facing toward your swimming pool water.
View available swimming pool financing programs for Florida. Call Lyon Financial today at 877.754.5966 for the financing you need to make the memories you deserve!
Back to top