We are Florida's premier pool financing partner!
With more than 650 miles of sun-drenched beaches from the Panhandle to the Keys, they don't call Florida the Sunshine State for nothing. A four-season subtropical paradise, the balmy weather perfectly lends itself to the swimming pool lifestyle, with most Floridians considering a pool nothing short of a necessity.
According to a 2015 study by Realtor.com, Florida is home to two of the nation's top ten pool-loving cities; Coral Springs and Clearwater. In Coral Springs alone, a whopping two-thirds of homes include a pool. Why not join your neighbors and beat the heat all year round with a tropical oasis in your own backyard? And when you do, make certain to partner with Lyon Financial, the industry's leading provider of swimming pool & home improvement financing options since 1979.
With over 400,000 satisfied customers nationwide, Lyon Financial specializes exclusively in swimming pool & home improvement loans, allowing us to offer the lowest rates, longest terms (up to 20 years!), and most experienced professionals dedicated to making your backyard dreams come true.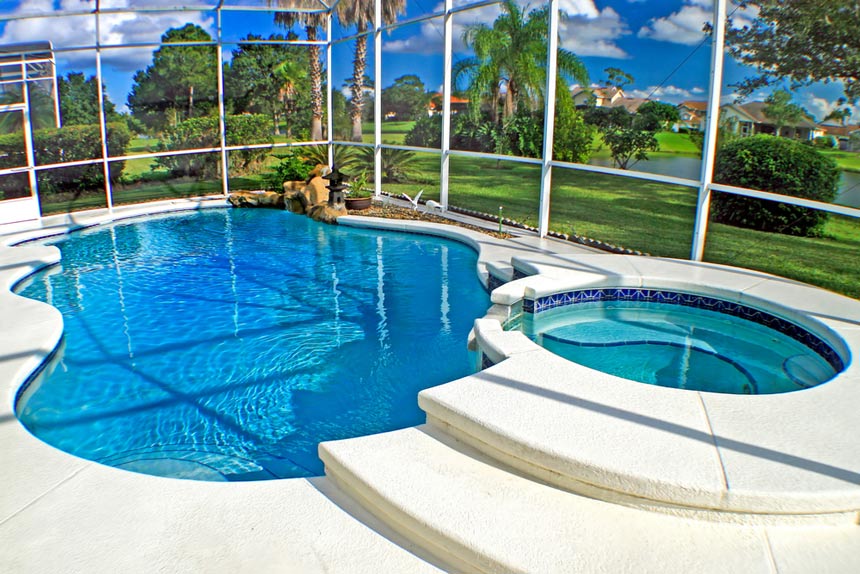 Make Your Swimming Pool a Safe Space
Having your very own in-ground swimming pool can be a delightful addition to not only your backyard but also to your healthy lifestyle! So. Much. Happiness. However, a swimming pool also comes with responsibilities and potential hazards — particularly for the children in your life. For those ages 1 to 4, drowning is the leading cause of death. Even for those older than that, drowning is the fifth leading cause of death. It's important to implement and enforce safety policies for your swimming pool. Based on recommendations from the American Red Cross, we hope you'll create your own guidelines in order to make your swimming pool a safe space for fun and friends!
Put Up Barriers
The kind of fence used for typical backyards isn't enough if you have a swimming pool. Instead of simply having a 3-sided fence that surrounds your yard and runs into your house, a swimming pool fence should be a 4-sided fence that surrounds only your swimming pool. It should be at least 4 feet high and should include a self-closing, self-latching gate. This design allows small children to play in the yard but not the swimming pool area, when a supervising adult is not within reach.
Other safety barriers for your pool should include a safety cover that's used whenever the swimming pool is not in use. Pairing that cover with a pool alarm that will sound whenever someone enters the pool can be a helpful addition as well.
Require Careful Supervision
One important rule of swimming pool safety is that no one — not even a well-trained adult — should swim alone. In addition, no child should be allowed within the fenced-off pool area without an adult supervising. Non-swimmers should also be required to wear a life jacket or similarly protective floatation device anytime they enter the pool.
Keep Your Swimming Pool Maintained
Drowning is certainly the greatest safety risk associated with swimming pools; but it's not the only one. You can help prevent various issues for swimmers — ranging from earaches to rashes — by keeping your swimming pool chemicals carefully monitored and your filtration system free from debris. To keep your swimming pool water free from harmful toxins, make sure anyone entering your pool has showered first, reducing the bodily fluids and other products that would otherwise affect your pool water.
Post Your Policies
There's no point in having policies if they aren't posted and enforced! Be sure to carefully word each rule so that it's easy to understand and remember, and go over the rules with anyone who enters your swimming pool. You might even want to consider requiring any children to repeat the rules out loud and specify consequences that will occur if any one of your pool rules is violated. Of course, you also need to make sure to enforce those rules and follow through with any consequences you have promised.
View available swimming pool financing programs for Florida. Call Lyon Financial today at 877.754.5966 for the financing you need to make the memories you deserve!