We are Tennessee's premier pool financing partner!
Home to Nashville's legendary Grand Ole Opry, Elvis Presley's Graceland, and the majestic splendor of the Great Smoky Mountains, Tennessee is a state unlike any other, exciting and unforgettable with an emphasis on outdoor living. Why not add a lifetime of memories to your family's backyard hideaway with a brand new swimming pool all your own?
The industry leader in providing pool & home improvement financing options since 1979, Lyon Financial offers personalized, hassle-free solutions to bring all your backyard dreams to life. By continually adapting to the economic realities of our clients, we're able to provide the most flexible financing options available.
With low rates, terms up to 25 years, 500,000+ satisfied customers, and exceptional customer service, Lyon Financial is proud to serve all of Tennessee, including the Memphis metro area (Shelby County), the Nashville metro area (Davidson County, Rutherford County, Williamson County, Sumner County), the Knoxville metro area (Knox County), and the Chattanooga metro area (Hamilton County). Contact us today and let Lyon Financial help turn today's dreams into tomorrow's reality.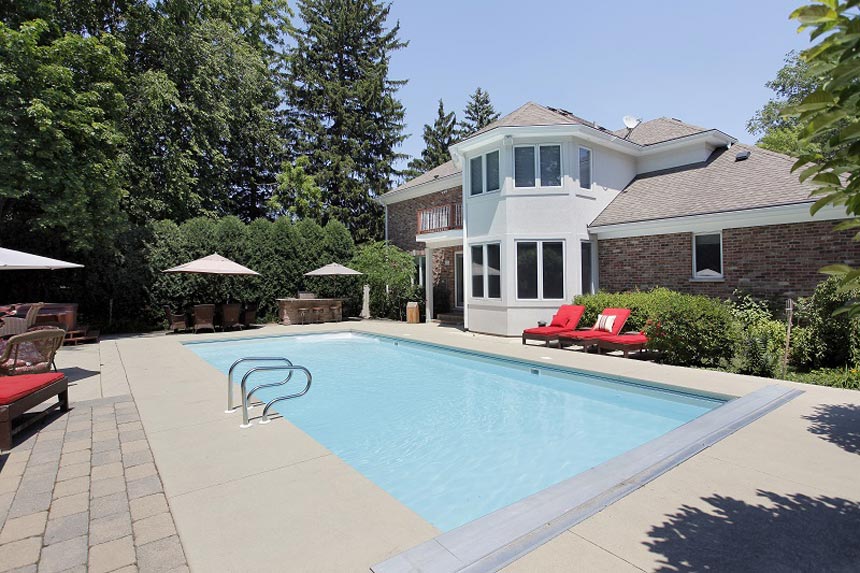 Important Reasons to Add Swimming to Your Fitness Routine, Part 1
Are you looking for a fun and refreshing way to get an effective workout? Do you want to find a way to get in shape without becoming a sweaty mess? Then take a plunge into the pool! Whether it's your own backyard oasis, a municipal pool, or the pool at your local fitness club, swimming pools offer a unique way to get in shape that offers a whole host of benefits. Here are a few of the reasons why you should consider adding swimming to your fitness routine.
Swimming is an Effective Way to Burn Lots of Calories Quickly
Whatever your age, gender, weight, or body type, you will likely burn plenty of calories swimming laps in the pool. Different swimming strokes allow you to burn different amounts of calories. You can burn more or fewer calories with each stroke depending on your weight, swim time, and speed. You can use a swimming calculator to estimate the number of calories you burn during your swimming workout.
If you swim vigorously, you may be able to burn as many as 1,000 calories within one hour of swimming! Some of the strokes that make the biggest impact when it comes to calorie burning are the Crawl, Butterfly, and Breaststroke. If you start to get tired, you can take a break from swimming laps and just tread water for a while. Even treading water can allow you to burn a significant number of calories.
Swimming Allows you to Work Your Entire Body at the Same Time
If you've ever worked out in a gym, you know that certain types of equipment typically focus on certain parts of the body. When you swim, you kick with your legs, push through the water with your arms, and turn your torso from side to side. Swimming works your back, neck, and shoulders too. Different strokes tend to focus on different muscle groups, so if you vary your swimming routine to include different strokes, you'll be able to target a wide range of different areas of the body. You'll likely start to see quick weight loss and muscle toning results if you swim several hours a week.
Swimming Combines Strength Training and Cardio Exercise
If you want to work out your heart and develop strong muscles, swimming may be the ideal workout for you. When you swim vigorously, you'll bring your heart rate up. Taking in oxygen rapidly through efficient breathing as your head comes up out of the water for air is another aspect of swimming that will strengthen your cardiovascular system. You'll also build up your body's endurance level by pushing your way through the dense water. Water provides your body with just the right amount of resistance to build stronger muscles. It's the ultimate cardio plus strength training workout.
As you can see, there are a number of great reasons to include swimming in your fitness regimen. And, with Tennessee's longer "warm season," you can comfortably enjoy a backyard pool longer throughout the year than in many northern states. In our next article, we'll consider some other ways swimming can benefit your overall health and well being.
View available swimming pool financing programs for Tennessee. Call Lyon Financial today at 877.754.5966 for the financing you need to make the memories you deserve!
Important Reasons to Add Swimming to Your Fitness Routine, Part 2
In our first article in this series, we took a look at some of the ways swimming can be beneficial to your body. Swimming burns plenty of calories and combines both cardio and strength training into one efficient, full-body workout. In this article, we'll consider how people in different age groups or at different mobility levels could enjoy swimming for physical fitness.
Swimming is Ideal for People Looking for a Low Impact Form of Exercise
One of the biggest concerns people who engage in regular fitness activities tend to worry about is the long-term impact of their exercise on their joints. Fortunately, swimming is low impact due to the buoyancy provided by the water. That's one reason why senior citizens or people who have had joint problems and injuries in the past prefer swimming to many other forms of exercise. It's a great way to get an effective workout without causing as much pain as many other common forms of exercise, such as jogging or running. People who have suffered injuries or have poor balance and may be prone to falling while exercising can enjoy a safe workout with swimming. Even those who aren't strong swimmers can get a workout in the water by kicking while holding onto a paddle board, doing water aerobics, walking back and forth across the pool, or holding onto the side and kicking.
Swimming can Encourage Relaxation and Improve Your Mood
Exercise, in general, can cause your body to emit mood-boosting chemicals, but swimming can lift your spirits even more than some other forms of exercise. This is especially true when the pool is located in a serene outdoor setting, like a landscaped backyard in a quiet neighborhood in the suburbs of Nashville or Knoxville. Even a municipal pool that's not very crowded can give you a restful and relaxing swimming experience. You could check with someone at the front desk to find out which times of day are the least crowded or are set aside specifically for people who are swimming laps for fitness.
Swimming Allows You to Stay Cool to Encourage Longer Workouts
When you swim, you can often keep going for your workout longer, especially when it's hot outside. Rather than having to be cooped up inside during the summer months to avoid heat exhaustion, swimming offers you an opportunity to enjoy being outside and working out without feeling like a hot, tired, and sweaty mess after just a few minutes.
Swimming is an Activity that Attracts People of All Ages
Everyone from a small child to an elderly person can enjoy swimming. That's because when you swim, you're able to move at your own pace in a relaxing environment. The pool is a great place to work out on your own, in a formal exercise class, or with friends. No matter what your age, gender, size, or ability level, you can have fun getting into shape in the pool.
When you add swimming to your fitness routine, you'll reap all these benefits and more. So put in that backyard pool you've always wanted, join a health club with a pool, or get a membership to your city pool. You can get in shape with an effective, fun, and low-impact workout that's great for your heart, your muscles, and your mood.
View available swimming pool financing programs for Tennessee. Call Lyon Financial today at 877.754.5966 for the financing you need to make the memories you deserve!
Disclaimer: The Lyon Financial website does not provide medical advice, diagnosis or treatment. Content from this website is not intended for medical diagnosis or treatment. The information provided on this website is intended for general consumer understanding and is not intended to be a substitute for professional medical advice.