We are Nevada's premier pool financing partner!
From the sun-kissed peaks and breathtaking vistas of the Sierra Nevada, to the glittering neon and non-stop excitement of the Las Vegas strip, nothing beats the blistering desert heat like a refreshing dip in a sparkling pool. Especially when that sparkling pool is yours.
As the industry leader in swimming pool & home improvement financing since 1979, Lyon Financial is proud to provide individuals and families with the financing they need to make the memories they deserve. Unlike other lenders, our signature swimming pool programs have no closing costs, no points, no upfront or consultant fees, and no pre-payment penalties.
With over 400,000 satisfied customers nationwide, we deliver the best loans with the lowest rates, terms up to 20 years, and exceptional customer service lead by a friendly team of experienced professionals dedicated to making all your backyard dreams come true.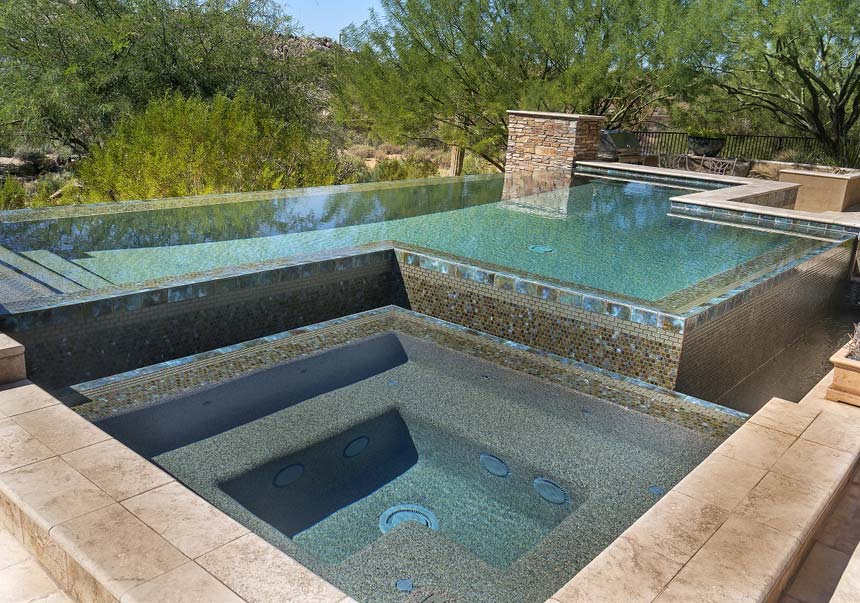 Safety Tips for Swimming Pool Owners
As much as having a backyard swimming pool has plenty of health-related benefits, all of those are null and void if safety precautions haven't been taken. By incorporating safety barriers as well as strict policies for those who use your pool, you can help ensure that everyone has a fun time — which, of course, assumes that they're safe. While you can't avoid all risk, you can greatly mitigate the risks of having a drowning occur in your swimming pool by doing everything in your power to keep your swimming pool environment safe as well as being prepared to respond in case of an emergency.
Preparation for Drowning Prevention
The safety of your swimming pool will be largely connected to your own preparation to respond to such incidents when they occur. Your preparation can include the following:
• Training in first aid, CPR, and water safety
• Keeping an emergency kit on hand
• Always remaining sober
• Installing a 4-sided pool safety fence with a self-latching gate.
If you're looking for a class to take, they are available from the National Swimming Pool Foundation® or your local Red Cross chapter. Emergency kits can be readily purchased on Amazon.com.
Swimming Proficiency for Drowning Prevention
In addition to your preparation as a pool owner, those who swim in your pool will be safest if they have achieved a certain level of swimming proficiency. Whether you choose to enroll your children in a local swim school or hire a private instructor to give lessons to your own children and others in your own pool, basic swimming skills will help keep them safe as well as train them in how to help others who are in distress.
Proper Supervision for Drowning Prevention
Even with all the safeguards mentioned above, drowning is still a definite risk. Truly a "silent killer," drowning can occur much more quickly than many people realize. And that's why no child should be allowed in or near your pool without an adult present. Still the leading cause of death for children under the age of 4 and the second-leading cause for those under age 15, drowning is definitely more common than any of us wish it were. And it's actually more common in backyard swimming pools than it is in natural water sources. Often, drownings occur when many adults are present and all are assuming someone else is keeping an eye out for signs of drowning. Perhaps consider putting a different adult on "life guard duty" every hour during an extended pool party.
As you determine the policies for your swimming pool, you may wish to post them and even review them with your children periodically as well as with any new friends who come over to enjoy your pool. And with human nature being what it is, clearly stating consequences for violating those policies is always a good idea.
View available swimming pool financing programs for Nevada. Call Lyon Financial today at 877.754.5966 for the financing you need to make the memories you deserve!