We are Nevada's premier pool financing partner!
From the sun-kissed peaks and breathtaking vistas of the Sierra Nevada, to the glittering neon and non-stop excitement of the Las Vegas strip, nothing beats the blistering desert heat like a refreshing dip in a sparkling pool. Especially when that sparkling pool is yours.
As the industry leader in swimming pool & home improvement financing since 1979, Lyon Financial is proud to provide individuals and families with the financing they need to make the memories they deserve. Unlike other lenders, our signature swimming pool programs have no closing costs, no points, no consulting fees, and no pre-payment penalties.
With over 500,000 satisfied customers nationwide, we deliver the best loans with the lowest rates, terms up to 30 years, and exceptional customer service led by a friendly team of experienced professionals dedicated to making all your backyard dreams come true.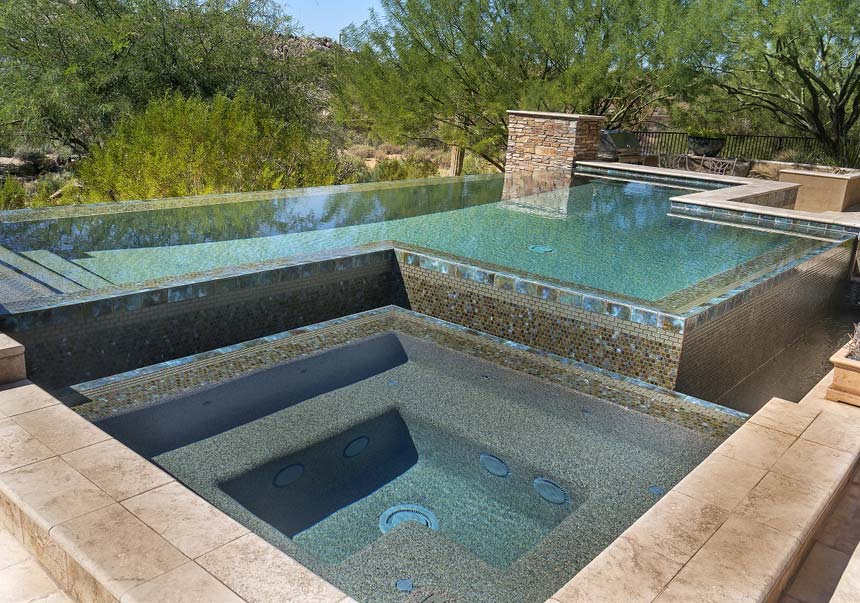 Safety Tips for Swimming Pool Owners
As much as having a backyard swimming pool has plenty of health-related benefits, all of those are null and void if safety precautions haven't been taken. By incorporating safety barriers as well as strict policies for those who use your pool, you can help ensure that everyone has a fun time — which, of course, assumes that they're safe. While you can't avoid all risk, you can greatly mitigate the risks of having a drowning occur in your swimming pool by doing everything in your power to keep your swimming pool environment safe as well as being prepared to respond in case of an emergency.
Preparation for Drowning Prevention
The safety of your swimming pool will be largely connected to your own preparation to respond to such incidents when they occur. Your preparation can include the following:
• Training in first aid, CPR, and water safety
• Keeping an emergency kit on hand
• Always remaining sober
• Installing a 4-sided pool safety fence with a self-latching gate.
If you're looking for a class to take, they are available from the National Swimming Pool Foundation® or your local Red Cross chapter. Emergency kits can be readily purchased on Amazon.com.
Swimming Proficiency for Drowning Prevention
In addition to your preparation as a pool owner, those who swim in your pool will be safest if they have achieved a certain level of swimming proficiency. Whether you choose to enroll your children in a local swim school or hire a private instructor to give lessons to your own children and others in your own pool, basic swimming skills will help keep them safe as well as train them in how to help others who are in distress.
Proper Supervision for Drowning Prevention
Even with all the safeguards mentioned above, drowning is still a definite risk. Truly a "silent killer," drowning can occur much more quickly than many people realize. And that's why no child should be allowed in or near your pool without an adult present. Still the leading cause of death for children under the age of 4 and the second-leading cause for those under age 15, drowning is definitely more common than any of us wish it were. And it's actually more common in backyard swimming pools than it is in natural water sources. Often, drownings occur when many adults are present and all are assuming someone else is keeping an eye out for signs of drowning. Perhaps consider putting a different adult on "life guard duty" every hour during an extended pool party.
As you determine the policies for your swimming pool, you may wish to post them and even review them with your children periodically as well as with any new friends who come over to enjoy your pool. And with human nature being what it is, clearly stating consequences for violating those policies is always a good idea.
View available swimming pool financing programs for Nevada. Call Lyon Financial today at 877.754.5966 for the financing you need to make the memories you deserve!
Helpful Pool Remodeling Tips and Ideas, Part 1
There's nothing quite like owning a swimming pool. It's the ideal place to get some much-needed rest and relaxation after a long day at work. Over the years, however, your swimming pool can start to show the inevitable signs of wear and tear. If your pool's design looks outdated, or you've noticed the appearance of fading or cracking, it may be time for some remodeling.
Taking good care of your swimming pool is vital for extending the life of your pool's equipment and finish. Though many people procrastinate when it comes to maintenance and remodeling, it's important to take care of these tasks in a timely manner. Before pool closing time in the fall is a perfect time to give your pool an upgrade. That way, when you get ready to open it in the spring your remodeled pool will be ready for action.
Listed below are some helpful pool remodeling tips to keep your pool functioning properly and looking its best.
Put a Premium on Safety
Pool safety should be a priority for every responsible pool owner. Many pool owners aren't financially prepared to include all their desired safety features when they first get a pool. Over time, as you are financially able to, adding more safety features to your pool is a wise investment.
Children and pets should never enter the pool unsupervised due to the risk of drowning. To help prevent such a tragedy, you can select from many different drowning prevention features such as fences, ladders, railings, pool safety nets, and pool safety covers. Make sure if you do intend to use a pool cover as a safety feature that you specifically look for one designed for that purpose. Solar covers are not safety covers and will not keep children or pets out of the pool.
Pool alarms can provide a last line of defense if someone does happen to bypass the rest of your pool safety features. You can set an alarm around the perimeter of your pool itself or attach one to the wrist of a child. You could also choose to set an alarm on gates, doors, or windows that are in close proximity to the pool. Knowing you're doing your part to keep your friends and family safe in your pool can give you peace of mind.
Resurface Your Pool for a Fresh, New Look
Pool surface styles go in and out of style. Even more important than keeping up with the latest fad, however, is making sure your pool's finish is in good working order. Over time, the chemicals you put into your pool water can start to make the pool surface look worn and sustain damage. Depending on the type of pool finish you have, you ought to replace it somewhere between every five and 20 years. The better you've kept up with properly maintaining your pool's water chemistry, the longer you can expect your pool finish to last.
The amount you can expect to pay for a pool resurfacing job will depend on a number of different factors, such as the size of your pool, the material it's constructed out of, and the type of interior finish it has. Only the finish layer of the pool's surface needs to be replaced when you get your pool resurfaced. The pool itself will remain intact. After the old, damaged finish is removed and a new one added, the pool may require an acid wash.
In our next article below, we'll consider some more ideas and pointers for pool remodeling.
View available swimming pool financing programs for Nevada. Call Lyon Financial today at 877.754.5966 for the financing you need to make the memories you deserve!
Helpful Pool Remodeling Tips and Ideas, Part 2
When it comes to remodeling your pool, figure out what additional items you'd like to add to your outdoor oasis. Make a wish list in order of importance to you. Then you can look at your budget and determine which job you'd like to tackle first. We've already mentioned pool safety and the need for a new pool finish. Here are some other reasons that pool owners choose to take on a pool remodeling project.
Enhance Your Pool Lighting
Making sure you have enough light in and around the pool could actually be considered part of the safety category from our previous article above. If you want to host evening or night time pool parties, extra illumination for the pool is a must. But even if you have adequate lighting for a safe swimming environment, adding extra lighting to the pool area can greatly improve the look of your outdoor space. It will make entertaining more enjoyable, increase visibility, and add curb appeal if you ever put your property on the market.
There are many lighting options to choose from, including interior pool lights like LED, incandescent, or fiber optic lights. For a bit of ambiance, consider including strands of white Christmas lights at a safe distance from the pool, as well as solar lighting alongside your patio or garden path.
Add Convenience
One of the reasons why pool owners choose to remodel is to make tasks such as pool maintenance easier. If you're not overly fond of cleaning the pool, you could get an automatic cleaner. Many pool owners find that a saltwater system is less of a hassle than a traditional chlorinated pool. You could also try replacing old equipment with newer, more efficient models. Integrating home automation features into your pool for even greater convenience is the wave of the future for tech-savvy pool owners. These handy devices can help you maintain your pool at the touch of a button.
Upgrade the Look and Feel of Your Pool
Once you've gotten the basic remodeling projects out of the way, you can start to invest in making your pool even more of your own private piece of paradise. You can add all sorts of luxurious features like a backyard spa, statues or rock formations, and new and improved landscaping. You could even add water features such as waterfalls or fountains. Coordinate these water features with color-changing fiber optic or LED pool lights for a breathtaking private light show.
Don't Forget Fun Features
If you've already taken care of basic remodeling, safety features, and aesthetic features, you can turn your attention to adding a little pizzazz to your pool. Features like tanning shelves, spas, and swim-up bars can transform your backyard into your very own mini-resort. If you enjoy outdoor entertaining, consider installing a fire pit or even an outdoor kitchen. With all these exciting extras, your pool parties will be the best on the block!
Remodeling your pool can be one of the most rewarding projects you'll ever undertake. Over the years, as you add new features for convenience and enhancement, your pool will become an even more cherished place for making unforgettable memories.
View available swimming pool financing programs for Nevada. Call Lyon Financial today at 877.754.5966 for the financing you need to make the memories you deserve!